---
Because we eat rice for breakfast most mornings, we like some variety in our toppings. Matthew usually eats some combination of
nattou
, soy sauce, and
aonori
(finely ground seaweed that comes in a shaker), maybe with an egg, while I have
umeboshi
or milk and honey. Now, thanks to one of his students, we have a brand new bag: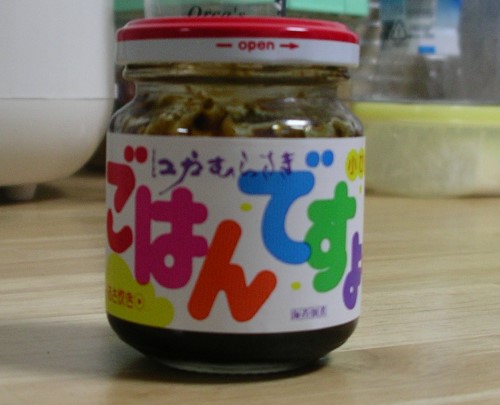 It's
Gohan Desu Yo!
, literally "It's Cooked Rice!"
Gohan Desu Yo!
is a seaweed-based condiment, lightly sweetened and flavored with small amounts of fruit and other stuff. You scoop it out of the jar with your chopsticks and mix little bits of it in with your rice for a nice, savory, seaweedy flavor. It's pretty addictive; I was actually glad to get off my milk-and-honey kick so that I could eat it. It's also a lot of fun to go around saying
Gohan Desu Yo!
We both already wear glasses, so we don't need to worry about
this
happening.