---
We had snow on New Year's Eve and New Year's Day, with enough accumulation that the embankment near our house became attractive to youngsters wanting to sled or build snowmen. And to us, too. On the 2nd, we gave in to temptation and went to play in the snow.
Atop the hill there were already two squat Japanese-style (two-ball) snowmen. There was still plenty of snow, so we decided we'd build a western-style snowman with three balls. And not only that, we'd make it huge!
To make a big snowman, you need some big snowballs. Of course you have to start small.
As you roll it around, it gets bigger. You can grow your snowball faster if you don't restrict yourself to rolling up only snow.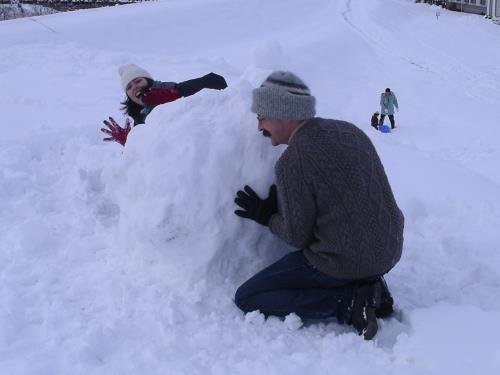 Eventually the snowball got big enough that it took two of us to roll it, then all three of us. We maneuvered it into place to be our snowman base. The torso and head snowballs went much faster, and before long we had a friendly snowman with gravel eyes and wearing Matthew's hat.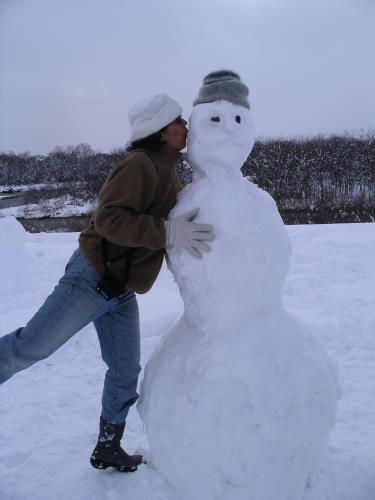 Then Matthew took his hat back. On our way home, we noticed the snowman seemed rather ominous. He towered at the top of the hill, looming over the neighborhood, menacing all with his beady eyes.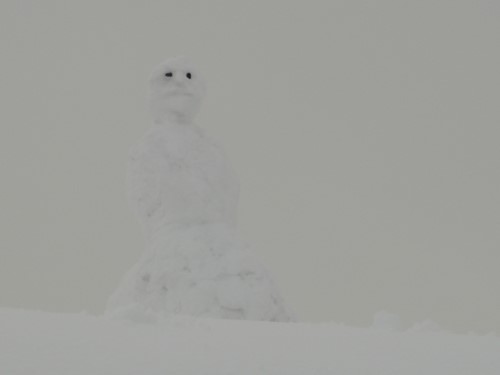 That photo doesn't really capture the feel of it, though. There just wasn't enough contrast between the snowman, ground, and sky. Thanks to the miracle of computers, though, we were able enhance the image so you can see what we mean.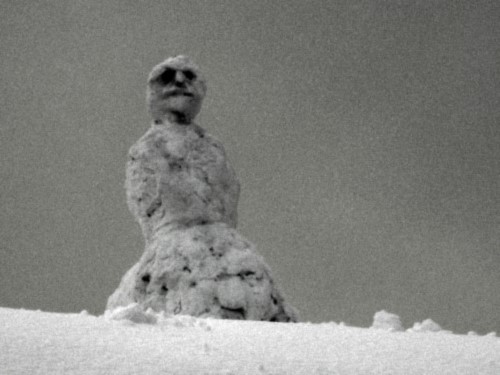 His reign was not to be a long one, though. The next day, some kids took him apart with a shovel and tried to roll the base snowball some more, but found it to be too heavy.
For a different account of this adventure, be sure to read
Please Take Recess
.