---
When Matthew and I decided to move to Japan, we were motivated by the desire to learn more about another culture and another way of life. So, when our neighbors invited us to participate in
Undoukai
, we had to go for it.
Gathered by teams for opening speeches and organized calisthenics (not only is there a song, but also a whole ordered routine — probably a lot like the
factory workers' morning ritual
), we prepared for a day of friendly competition. Our team was announced as third largest, earning us a certain number of points up front. Kunenbashi (the neighborhood, not the
bridge
), represent!
Each team donned a different-colored headband. Team Kunenbashi wore red. The first event was a series of races for the young kids. We adults began our competition with a basketball-passing relay game. A third-place finish in this event stoked our drive for further excellence.
Team Kunenbashi performed well throughout the next few events. These included a relay where we dressed a teammate as a scarecrow, then walked him to the finish line; tea can/beer bottle/giant sake bottle ring toss; and filling a giant sake bottle with team-colored liquid by using small tea cups. And then, we met our Waterloo:
Janken
.
Janken
is a game of extreme skill and concentration, perhaps a bit too much so for the good-natured competition of
undoukai
. Oh, who am I kidding — it's Rock, Paper, Scissors, and we
blew
. Team Kunenbashi scored ONE POINT, thanks to our very last player. I think we may want to consider some
janken
drills in advance of next year's event.
The next event was a 1500m road race. Up to this point, Matthew and I had been responding eagerly to each call for our participation, even if we didn't comprehend totally what the event was. In this case, we thought it was an 800m run. Because neither one of us is particularly athletic, I think we got in a little deep. Matthew ran admirably, finishing in the middle of the pack. Here he is after the race, wearing the cool, damp towel worn by all the other men after a particularly strenuous event.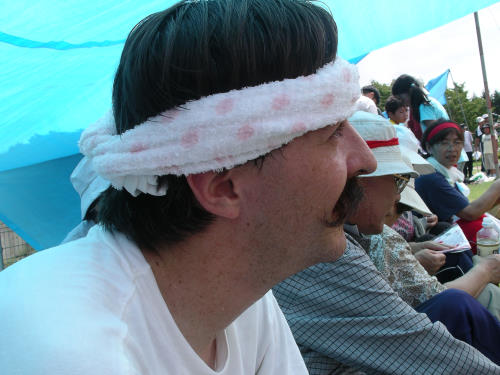 Well, not the same towel. You know what I mean.
Team Kunenbashi won the next event, tossing small balls into baskets held high overhead. We were not so successful in the tug-of-war, losing both of our elimination bouts. We regained momentum with a third-place finish in the rope-making event. Wow. Before Sunday, I couldn't imagine this at a sports day: "Okay, now we're going to make some rope."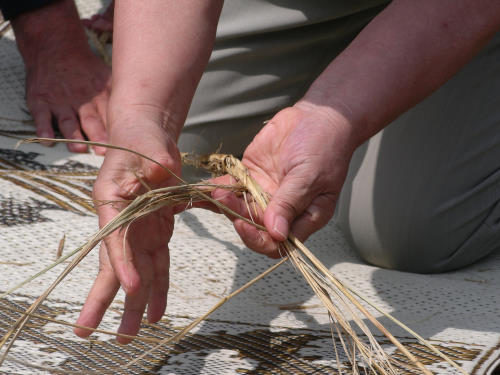 The people participating in the rope-making event were amazing, cranking out more than four meters (about thirteen feet) of rope in five minutes.
The athletics resumed with three final races: a stick-and-hoop relay, a women's relay, and a men's relay, with each leg of the latter two being run by a person fitting into a certain age range (a "different generations" relay, if you will). The stick-and-hoop relay was rather impressive, with Team Kunenbashi demonstrating enough skill to achieve a second-place finish.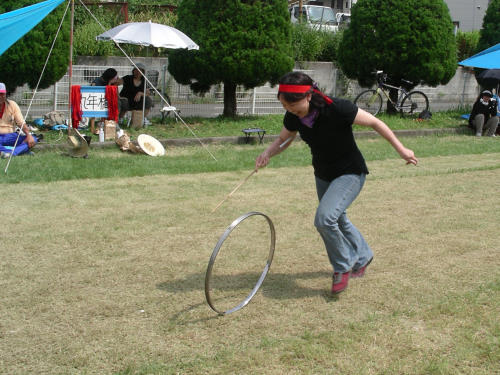 Team Kunenbashi lacked someone to run the fortysomething leg of the women's relay, so between the two thirtysomethings, they picked me to be "fortysomething." We also had to borrow an elementary school student from another neighborhood. Sadly, Team Kunenbashi did not place in either of the last two races.
Overall, we finished in fourth place out of five teams. Nevertheless, we had a great time, which was the point. And we still got our cases of beer and bottles of sake as participant rewards.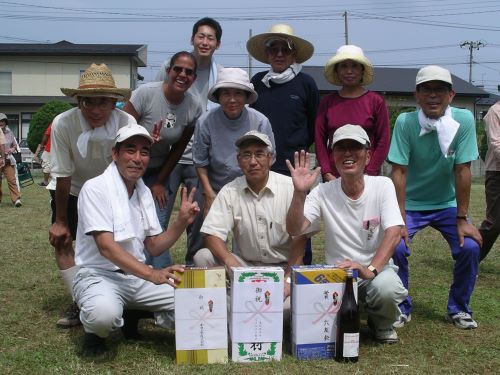 Confidential to
Saru-chan
: Happy Birthday!