---
Visiting shrines and temples is an important tradition for New Year's. At large temples, people go on New Year's Eve, and the temple bell sounds 108 times to ring in the new year. Other people arise early, and welcome the new year by visiting a shrine or temple at sunrise. In any case, most people go sometime in the first three days of January. This visit is called
hatsumoude
.
Our nearest shrine, perhaps in recognition that no one wants to be up at dawn in Tohoku in winter, invited the people of the surrounding neigborhoods to visit at 8 am on New Year's Day. We figured this would be a good way to enjoy an old tradition. So, despite our
late night
the night before, we got up early and made the snowy trek to the shrine grounds. There we found bonfires, friendly greetings, fish paste, and sake. From time to time someone would approach the shrine itself to make an offering and prayer, but mostly it was conversation, drinking, and eating around the bonfires. We ran across several people who remembered us from
undoukai
.
People also wrote their prayers for the new year on paper or wood, which they threw into the fire. The rising smoke carries the prayers up to the gods.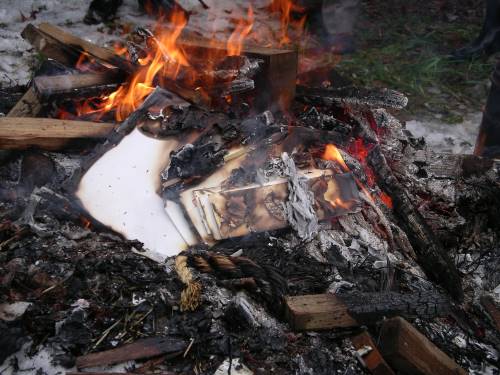 After we were there a short time, a group of men were leaving, and insisted we should go with them. We were uncertain, but they seemed friendly enough, so off we went. Along the way, we learned that our destination was a nearby temple, where there would be more sake, fire, and food.
Also along the way, we overheard this exchange (in Japanese):
"It's fun bringing the
gaikokujin
(foreigners) with us."
"Don't call them
gaikokujin
. Call them
nakama
(good friends)."
The temple was one very close to our house, and it was beautiful in the snow.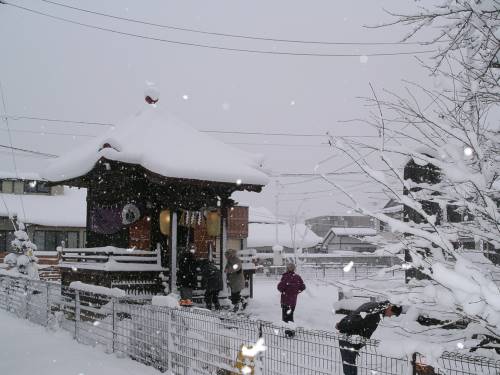 We paid our respects at the altar, then enjoyed more sake along with some snacks, and listened to our new friends speaking in the
Tohoku dialect
. Before everyone returned home to enjoy
osechi ryouri
, we got a group photo.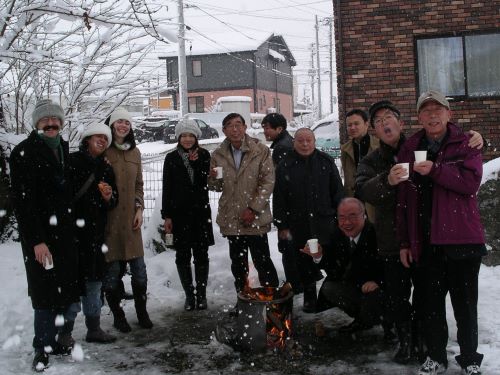 It was an auspicious start to the new year, and left us feeling warm inside.