---
December is the busiest month of the year in Japan.
Nengajou
need addressing,
bonenkai
(year-end parties, of which there tend to be many) need attending, and houses receive thorough cleanings. By the time New Year's Day rolls around, people are tired and want some relaxation. Traditionally, families would visit their local shrine to offer prayers for the new year before retiring at home for a day of drinking sake, reading
nengajou
, and eating
osechi ryouri
.
Osechi ryouri
are the traditional New Year's foods. Each food is eaten for a purpose: health, longevity, or wealth, among others. Historically, they are prepared in advance and stored in a large, three-tiered box (
juubako
) until New Year's Day; consequently, they tend to be heavily salted, sweetened, or vinegared for preservation purposes. Although people still make
osechi
at home, you can also buy most of the traditional foods already prepared.
We had a small subset of
osechi
, including some non-traditional treats that had been given to us as gifts earlier in the weekend.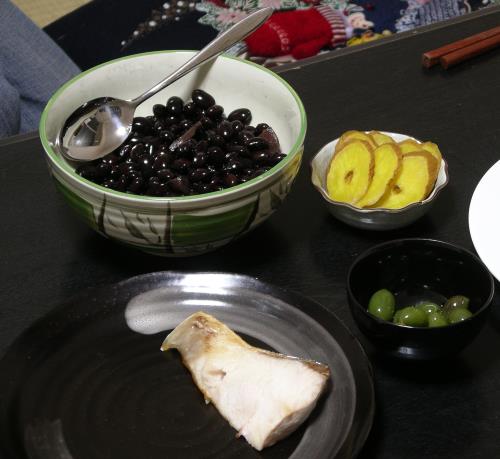 Clockwise from the top left:
kuromame
(sweetened black beans, eaten for health);
iburigakko
(smoked pickled daikon radish, an Akita specialty that a friend gave us); Japanese olives (a gift from the same friend); and salt-grilled yellowtail.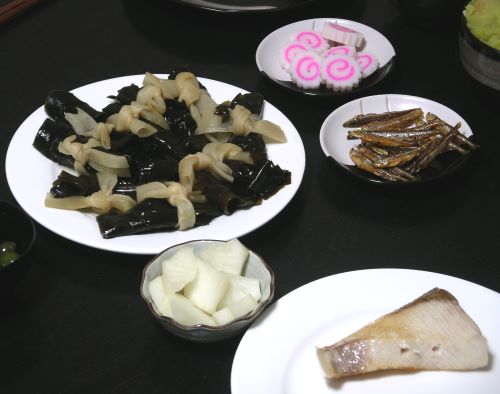 Clockwise from the left:
konbumaki
(simmered kelp rolls tied with gourd strips, eaten for happiness);
kamaboko
(fish paste; red and white are auspicious colors for the new year and symbolize celebration);
tazukuri
(candied sardines, symbolizing an abundant harvest); and rice bran pickled daikon.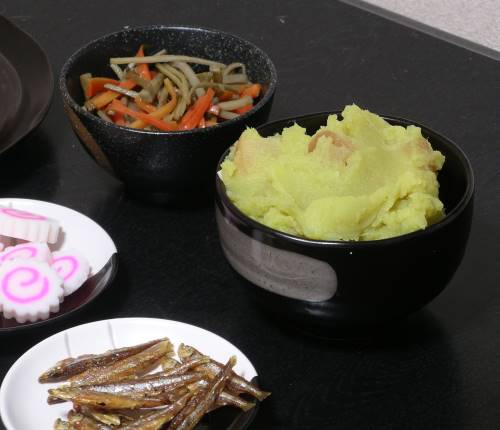 Clockwise from left: another look at the
kamaboko
;
kinpira gobou
(simmered burdock root and carrot);
ringo kinton
(mashed sweet potatoes and apples; eaten to bring good luck); another look at the
tazukuri
.
Not technically part of the
osechi
,
ozouni
is also traditionally eaten on New Year's Day.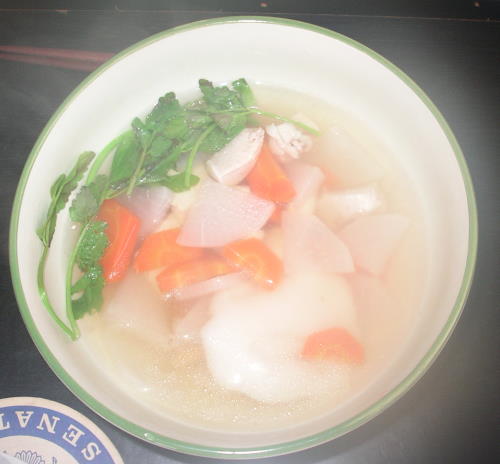 According to our local friends,
ozouni
in Iwate consists of a clear soup base, chicken, daikon, carrot,
ikura
(salmon roe), Japanese parsley, and
mochi
. We had ours for lunch, before a lovely drive to Semi Onsen, where we enjoyed a New Year's soak in the
rotenburo
, surrounded by two feet of snow.