---
Unlike
last year
, I haven't been getting sick on a monthly basis. Unfortunately, I have gotten sick enough to require my first visit to a doctor in Japan. As one does, I went to the doctor that came recommended by a student. This doctor had the added benefit of having the most entertaining office sign in Kitakami: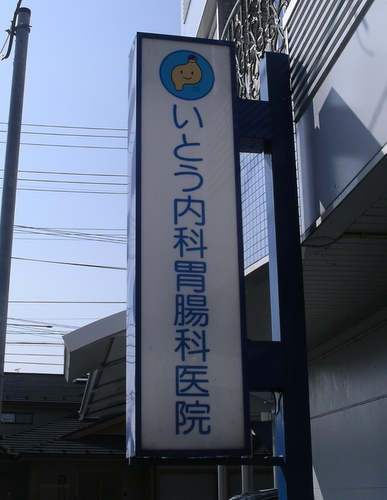 Unless you're presenting with a dire emergency, the medical intake process in Japan is very DIY. The nurse handed me a digital thermometer along with the patient information sheet so that I could take and record my temperature. Once that was done, she pointed me to the self-service automatic blood pressure cuff. Much like the
photo booth at the drivers' license center
, the machine exhorted me to relax before pressing the button to activate it.
Communicating with the doctor was not as hard as I feared it would be, save for a misunderstanding about why needles were going to be involved. After doing a blood test and determining that I did not have pneumonia, the doctor sent me off with a prescription and a directive to fill it at the pharmacy across the street. Which I did, and encountered one of the more curious things about Japanese medicine: powdered medicine. I also got a couple of different kinds of medication in addition to the powder (although not as many as the six pills plus powder Matthew got for his recent illness). They weren't difficult to take and they worked, but given the side effects (anyone who's ever taken corticosteroids would understand), I think I might just skip the doctor in the future.