---
As longtime readers of the blog know, learning to cook Japanese food has been one of the great pleasures of my life here (eating the Japanese food has been Matthew's great pleasure). Last week, I got really ambitious and decided to make a standard
ichiju-sansai
dinner.
Ichiju-sansai
consists of soup and three small dishes, as well as steamed rice and
tsukemono
(pickles). These dishes come from families of foods named by their method of preparation, such as
suimono
(vinegared dishes),
nimono
(simmered dishes), and
mushimono
(steamed dishes). Each dish should come from a different family.
For our dinner, we had a
nimono
(
kinpira gobou
, simmered burdock root), an
aemono
(
shira-ae
, tofu dressing on vegetables and
konnyaku
), and sashimi (
katsuo tataki
, seared bonito) with ponzu sauce. The
tsukemono
were pickled carrots from my
nuka-zuke
bed.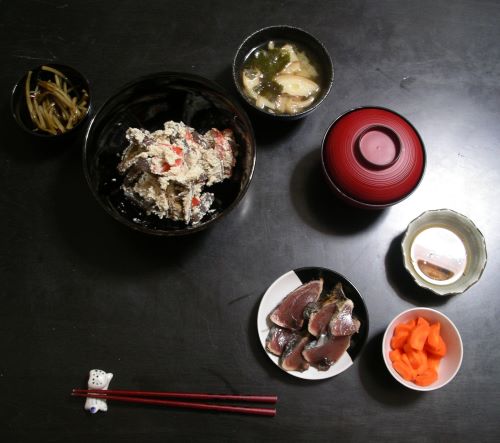 Making the dinner was pretty time-consuming, as was the cleanup. It was totally worth the effort.