---
Last week, we finally had some time for an overnight stay at a hot spring. We'd originally planned to go to the northern Iwate coast, but a
recent earthquake
had damaged the area, and we felt it was best not to go get in the way of the cleanup efforts. Instead, we headed inland, to an onsen in the mountains of Akita Prefecture.
Checking the maps, there were basically three routes we could take to cross the central mountain range to our destination. The expressway is by far the quickest way, but it's pretty straight and has lots of tunnels. The scenery is
nice
, but not great. The other routes offered narrow twisty roads that climb high into the mountains for spectacular views. We weren't in a hurry, so we chose the tiniest, windiest road on the map and set out.
Making that plan, we didn't think about the fact that seven weeks earlier there had been
a major earthquake
— and we were looking at going right through the heart of the damaged area. As we neared our first-choice road, we saw the signs: "Route 342 Closed".
There were other ways across the mountains, so we weren't worried. We consulted with the toll collector, who indicated he thought our second choice road would be open. So we backtracked a bit and took some side roads up into the mountains.
As predicted, the scenery was spectacular. As not predicted, it also became more sinister.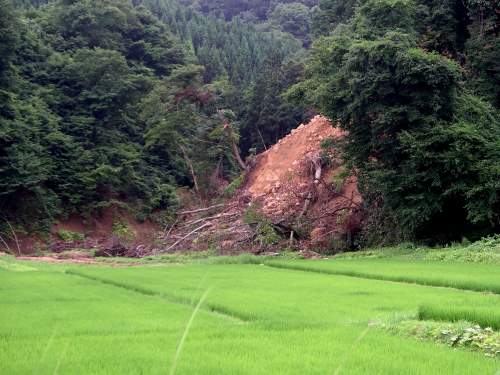 Well, we were still better off than this guy.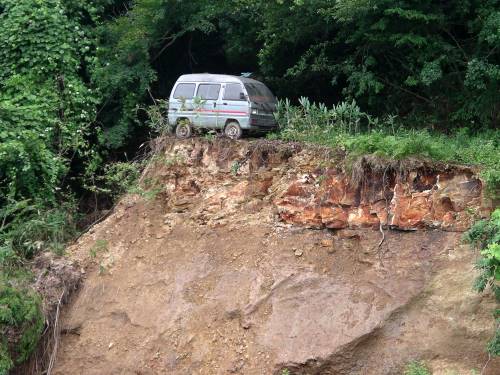 But, we did have to drive around some severe road damage.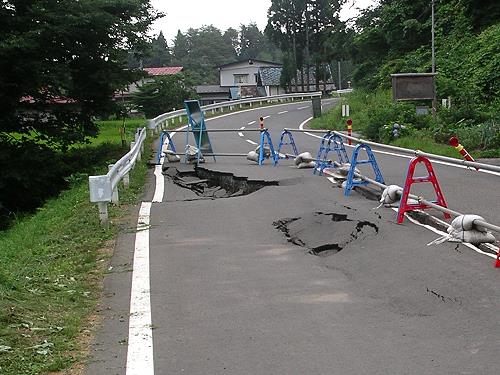 Despite the damage, we were making good time and had almost reached the road we wanted to take, when we came to a crossroads. There was no need to check the map, though — every route except the one we came in on was closed. We consulted with some construction workers to find out how to get to Route 398. "You know 398 is closed, don't you?" they asked. "You should take the expressway."
Sigh. So we headed back to the expressway, back to Kitakami, and across the mountains. After we left the expressway on the other side of the mountains, we had plenty more amazing scenery.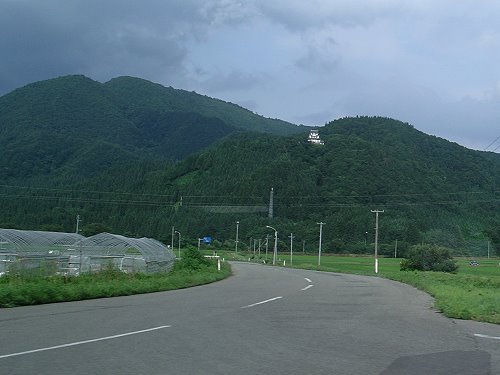 And we had clear sailing on our chosen route into the mountains, all the way up until we were a few short kilometers from our destination and came across yet another "Road Closed" sign. More backtracking, more consultation with locals, and another half hour of driving, and we eventually made it to our destination.
The return trip was somewhat less eventful — by then, we knew what areas to avoid — but we did find a place where the narrow mountain road, walled in by the mountain on one side and a steep drop on the other, took a hairpin turn at the bottom of a hill. They need guardrails for safety, but I guess they don't want drivers getting overconfident.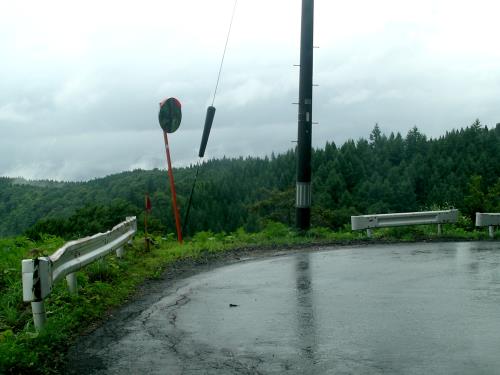 Happily, our brakes were in fine condition and we made it home safe, sound, and ready for our next adventure — whatever it may be!