---
8:00 am -- Wake up to sounds of small city life, including clanking and machinery from nearby cement plant.
8:30 am -- Breakfast. Sometimes we have toast, eggs, or cereal (Japanese cornflakes + Iwate milk = awesome). Other days, we eat rice topped with umeboshi (pickled plums that look like brains), seaweed, or natto (fermented soybeans that have the texture and viscosity of warm Rice Krispie treat matter).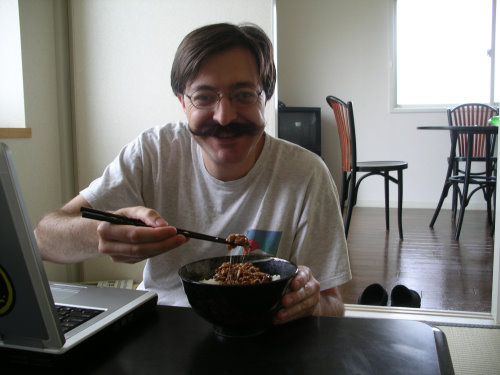 Okay, sometimes Matthew has natto. I fear the natto.
We also use mornings to catch up on American news and our respective newsgroups and food boards, since much of what happens happens while we're merrily snoozing away.
11:30 am -- Put futons away (only sometimes, I confess), iron, go to dry cleaner, decide whether we'll have lunch together. Matthew suits up for work and cycles off, messenger bag slung over his shoulder. He's adorable. :) I do laundry in the Jetsons washing machine, or clean up the teeny-tiny kitchen, or deal with paperwork.
Somewhere around 1:00 pm -- Lunch! I bike over to Matthew's school, and we seek out a mealing venue. There's a good, cheap takoyaki (grilled octopus balls, by which I mean balls of octopus meat) joint near his school that serves lunch specials of takoyaki (obviously) or tasty, tasty yakisoba (grilled noodles), onigiri (seaweed-wrapped rice balls stuffed with something like spiced roe, salmon, or brains), and a dessert (most recently, melon custard -- mmm). The people running the place are very friendly and chatty.
2:00 pm -- Deetsing around on some combination of errands, exploration, grocery shopping, and the inevitable WTF? moment. Here's today's: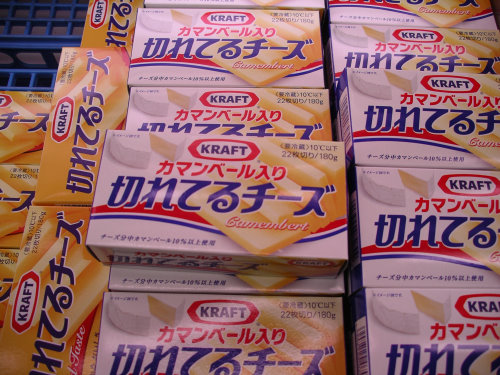 I finally acquired an apron today. It makes me look a bit like a miniskirt-wearing short-order cook.
Sometimes, my travels take me to the "WellYu" building, home of the Kitakami International Assembly Hall and a tiny, excellent art museum. KIAH is where Matthew first learned about The Moustache's reputation from a fellow Amerika-jin, an exchange student from Florida whose father had seen them around.
Somewhere around 5:00 pm -- return home and unpack goods. Feel relieved to have blood flow restored to hands if I overestimated how much I could reasonably carry on my sketchy bike, as I did today. Study Japanese, or surf the net, or catch up on email, or go for a bike ride.
7:00 pm-ish on days when it's not raining -- watch sunset.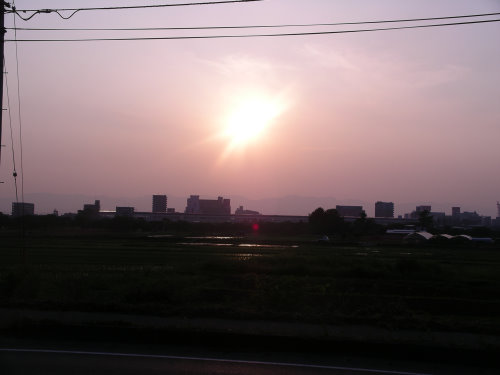 :)
8:30 pm -- make dinner. I've been cooking a fair amount of Japanese food, including fish, and had quite a bit of success. Fish is tricky, but for some reason, seems very easy to do here. On Tuesday, I made salt-broiled whole aji (horse mackerel), including gutting and de-gilling. There's no stopping me now...
9:30 pm -- Cocktail time! Matthew gets home from work around 9:10 most nights, changes, and makes drinks while I finish dinner. We eat and speak some Japanese before doing our last internet stuff and going to bed.
11:00 pm -- get out futons, go to bed. Listen to frogs communing along the Waga River.