---
After a little over a year on the Japanese cooking scene, I've gotten quite an education. I'm a bit of a purist, so I've been focusing on using seasonal ingredients and learning traditional techniques. As a general rule, I prefer to avoid processed things ― for example, I won't use
okonomiyaki
mix because while making it from scratch is a little more involved and itchy (stupid
nagaimo
juice), it's still really easy and the payoff is good. I don't mind fiddly, time-consuming, involved things if the end result is worth it.
Which is why my first experience with making
chirashi-zushi
was such a downer.
Chirashi-zushi
is essentially vinegared rice with seasoned things mixed in and other things scattered on top. Making it from scratch took the better part of an evening: cooking and seasoning each of the ingredients individually, vinegaring the rice and fanning it while stirring, and finally mixing and topping it with the other ingredients. It looked pretty, but it was really underwhelming. Some of the ingredients were undercooked and strongly seasoned, while others were overcooked and strongly seasoned, almost to the point of being candied. The latter point, though, provided a valuable lesson: if you're cooking a mixture involving soy sauce and mirin and it starts to smell like battery acid, it's too far gone.
I shared my sad story of battery-acid-smelling disappointment with a friend. She laughed, then shared her secret. "I'm too busy to make it from scratch," she said. "I use a mix."
A mix?!
Horrors! What about tradition, the need to use fresh ingredients, the attention to detail so commonly associated with Japanese cooking? Well, you can get freshness when you choose your toppings; as it turns out, a bag of vinegared vegetables and a pouch of shredded
nori
seaweed and sesame seeds comprise the mix. The result?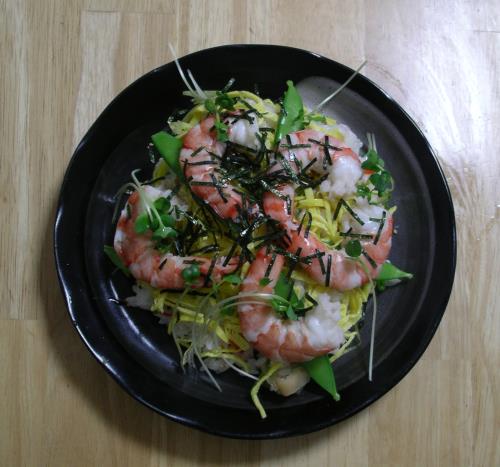 Mix
chirashi
was vastly superior to my scratch version. And if it's good enough for the natives, it's good enough for me.