---
We had a beautiful, cold autumn day today, perfect for cooking. It was also the first day I've felt up to doing anything really involved. Matthew seems to be recuperating quickly, so I decided to shake up the cooking from just soup or spicy things. We can't quite get away from the desire for spice right now, and I've added a tofu craving to the mix (Japan life = tofu cravings ¡½ who knew?). Thus,
mabo doufu
was in order.
Mabo doufu
originates in Szechuan cuisine, according to
the internets
. The Japanese have adapted it by adding sake and miso to the sauce, which also includes
tobanjan
, a spicy Chinese bean paste. I made a Japanese interpretation, and it totally hit the spot.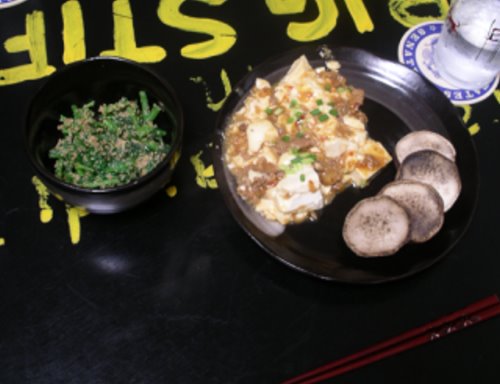 I plated it with some grilled
satsumaimo
¡½ Japanese sweet potatoes. I wanted the potatoes unadulterated because the
mabo doufu
and the third dish (more in a minute) both had very strong flavors, so I didn't oil them (bad call) or anything prior to grilling. Unfortunately, they were a) totally fugly; and b) good, but not complementary to the other dishes. Which was too bad, because I love
satsumaimo
. They're autumn produce, so there's plenty of time to make more.
I rounded out our dinner with a simple dish of
hourenso no goma-ae
, spinach dressed with sesame. My cookbook tells me this is technically a winter dish, but I figured I was in the clear because October in Tohoku might as well be winter. It was lovely and tasty, but as with the
satsumoimo
, it didn't harmonize so well with the other dishes. Clearly, I've still got a lot to learn about arranging menus here.