---
When you get damaged or misdirected mail in America, it usually arrives with some sort of brief explanation. Often, the explanation is an impersonal form with one of multiple preprinted reasons checked off (or the ever-popular "Other," with a terse, often illegible explanation). It might also say "We apologize for any inconvenience," or something like that. It's all very cold and official.
Not so in Japan: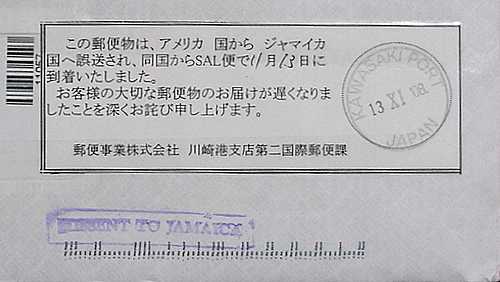 This came on a piece of mail we'd been expecting to arrive from America last month. It says, essentially: "This mail was sent from America to Jamaica, then arrived in Japan on November 13. The honorable customer's important mail was delivered late, and for that, we offer our deepest apologies."
Interestingly, it seems that mail from America bound for Japan gets sent to Jamaica often enough to warrant preprinted labels with spaces to write in the date.