---
Behold, the
kotatsu
: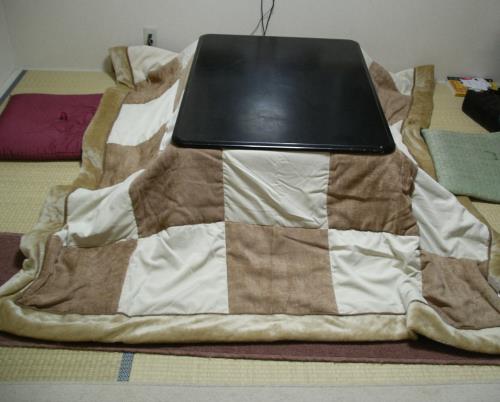 A
kotatsu
is a low table frame covered by a blanket, which the tabletop sits on. A heat source is located somewhere under the table; ours is electric, and is bolted to the frame. You sit with your legs (or more, if you like) under the blanket, which traps the heat. Like many houses in Japan, ours lacks central heat and much in the way of insulation, so we've stocked up on things like heaters in preparation for the winter. Frankly, even if we had heat, I'd want a
kotatsu
¡½ it's all fuzzy and cozy and warm.
I hesitate to put this in the "Strange Japan" category, because what it really deserves is an "Awesome Japan" category. I love the
kotatsu
!