---
It's been so hot and humid in Kitakami for the last week that, most days, we haven't been able to see the mountains west of town. We got a brief respite on Saturday morning, courtesy of a perfunctory downpour from Typhoon Usagi, which had been downgraded to a tropical storm by the time it reached us. We also had a little baby earthquake, for anyone who's keeping track of natural phenomena in Iwate-ken.
Because it's so muggy, nothing sounds particularly good to eat. We've been relying on the old Japanese standby,
zaru soba
.
Zaru soba
is cooked buckwheat noodles, chilled and then served with a dipping sauce. The dipping sauce is based on
tsuyu
, a combination of dashi broth, soy sauce, and mirin (sweet seasoning), and flavored as you like with ginger, green onions, and wasabi. Normally,
zaru soba
is served on small mat-lined trays, which we currently lack because, well, we have no space for them. Here's a photo: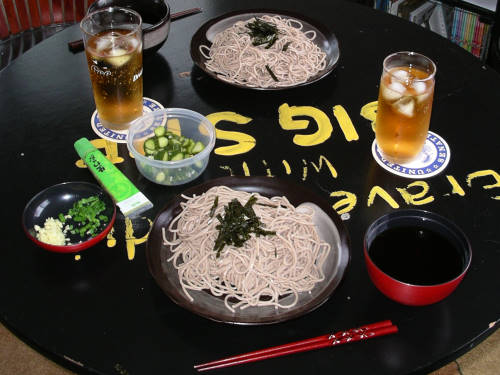 Incidentally, although we have a vague working theory, we have no idea who Big Stif is, or who the brave person is who did something with him/her.