---
Living in Kitakami places us smack in the middle of
sansai ryouri
country. As its name translates,
sansai ryouri
is cooking based on mountain herbs and vegetables. Yesterday, the local model shop owner's wife gave us a bunch of
gyojaninniku
, a type of mountain garlic or chive, along with instructions for preparing it. It's apparently pretty rare outside of Hokkaido, although the bunch she gave us was from Aomori.
We did as she'd instructed, chopping the
gyojaninniku
finely and steeping it in soy sauce before mixing it with hot rice. We also threw in some minced shiitake (and thank goodness for the easy access to cheap, fresh, delicious shiitake), and Matthew added some
nattou
.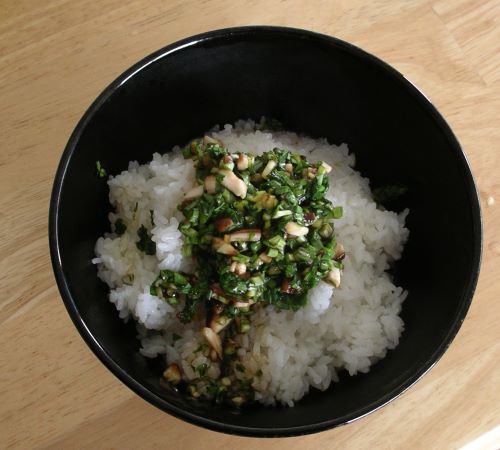 I don't know whether this technically counts as
sansai ryouri
, but it was really honking good.